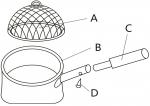 Lay out and identify all the components
2. Assemble the Wooden Handle (C) onto Bottom Pan (B) by inserting the Wooden Handle into the Steel tube on Bottom Pan and Fixing with Bolt (D).
3. Put the Mesh Lid Top (A) on top of the Bottom Pan (B).
4. The assembly is now complete.
1. Présentez et identifiez tous les compos ants
2. Assemblez la poignée en bois (c) au plat (B) en insérant la poignée en bois dans le tube en acier puis fixez avec le boulon (D).
3. Posez le couvercle grillagé (A) sur le plat (B).
4. L'assemblage est fini.